Discover more from Fabricated Knowledge
Let's learn more about the world's most important manufactured product. Meaningful insight, timely analysis, and an occasional investment idea.
Over 32,000 subscribers
AMD and Xilinx Tie the Knot
Proforma Financials for AMD/XLNX
The big rumor was true! AMD and Xilinx agree to a merger - and it makes sense. Both financially and strategically. Most notable is that it is an all-stock deal - one of the first we've seen in a while and hence the "accretive from an EPS perspective almost immediately". Let's dig.
Deal Terms
It's an all-stock deal, with a swap for Xilinx shareholders at 1.7234 shares of AMD for each Xilinx share. At an open of $78, that is a price of $134.4 per share of Xilinx. What's interesting to me is that XLNX is currently trading at $123, so there is a ~10% deal premium. That makes sense - since they don't think they can close the deal until the end of the calendar year 2021, and China will veto any and all semiconductor mergers out of principle alone. After the merger, AMD shareholders will consist of ~74% of the total enterprise, and Xilinx shareholders ~24% of the total enterprise.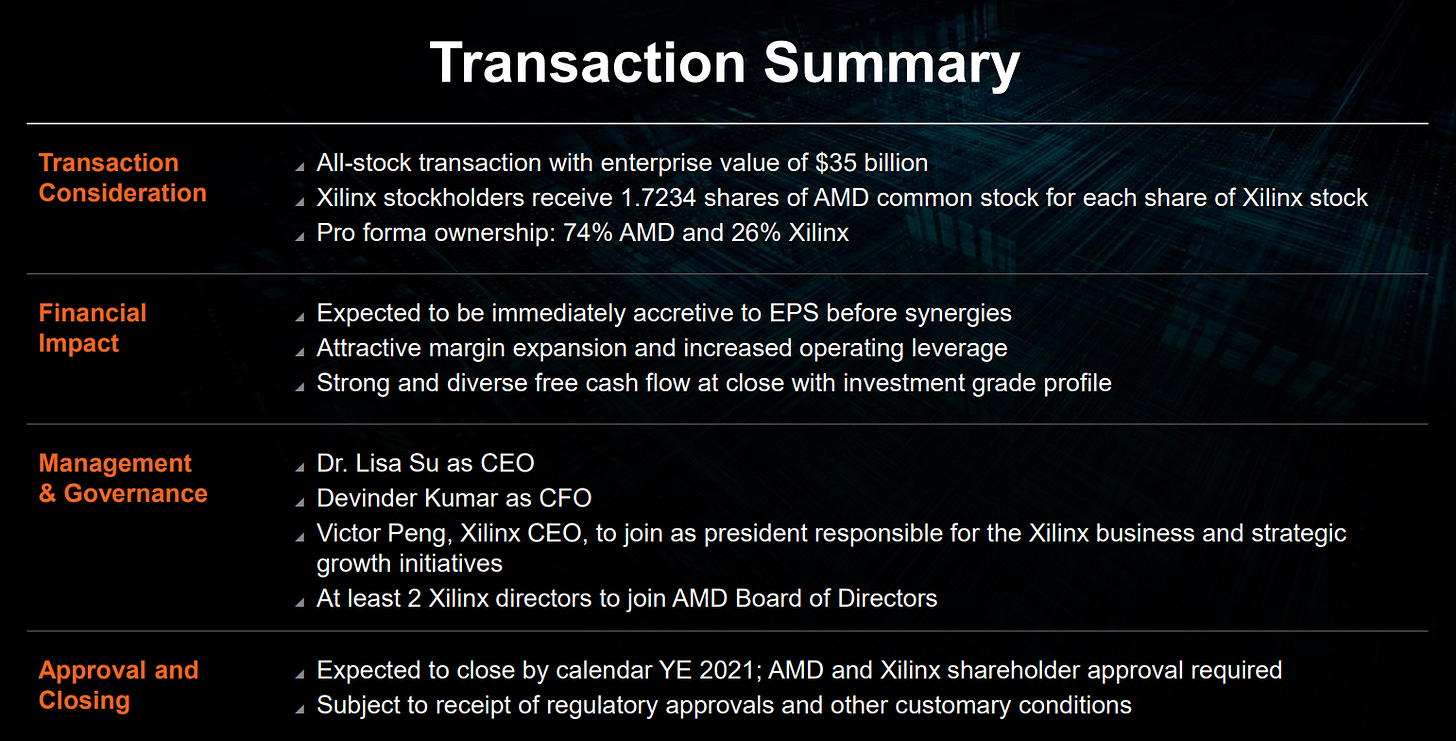 What's interesting to me from a deal perspective, is that AMD is kind of hedging its long term potential with a short term infusion of a more profitable and stable business in Xilinx. At the core of the deal is Xilinx and AMD together are going to be a much better go to market for Datacenter compute. This is important, as Nvidia so far has remained unchallenged in the datacenter. SmartNICs, FPGAs, GPUs, and CPUs together is one compelling platform. And if Lisa Su can bring together the software to support the platform, they may yet have the broadest platform of heterogeneous compute outside of Intel.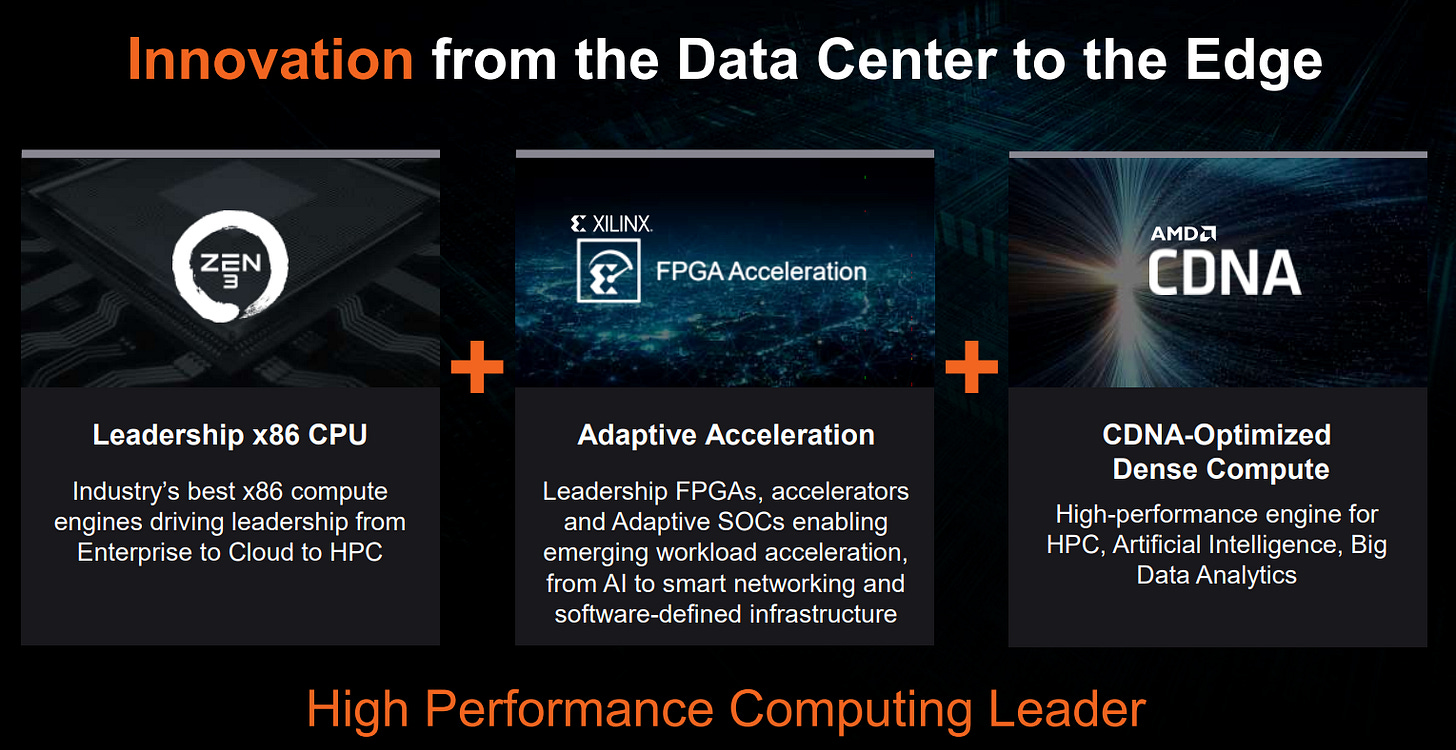 Also, there are many new markets that AMD can start to bring their products to. Notably - the communications, automotive, and industrial segments of Xilinx's portfolio are de-novo markets for AMD. Yet AMD's general-purpose CPU is the biggest and best core on the planet, it's likely AMD can leverage that to additional design wins.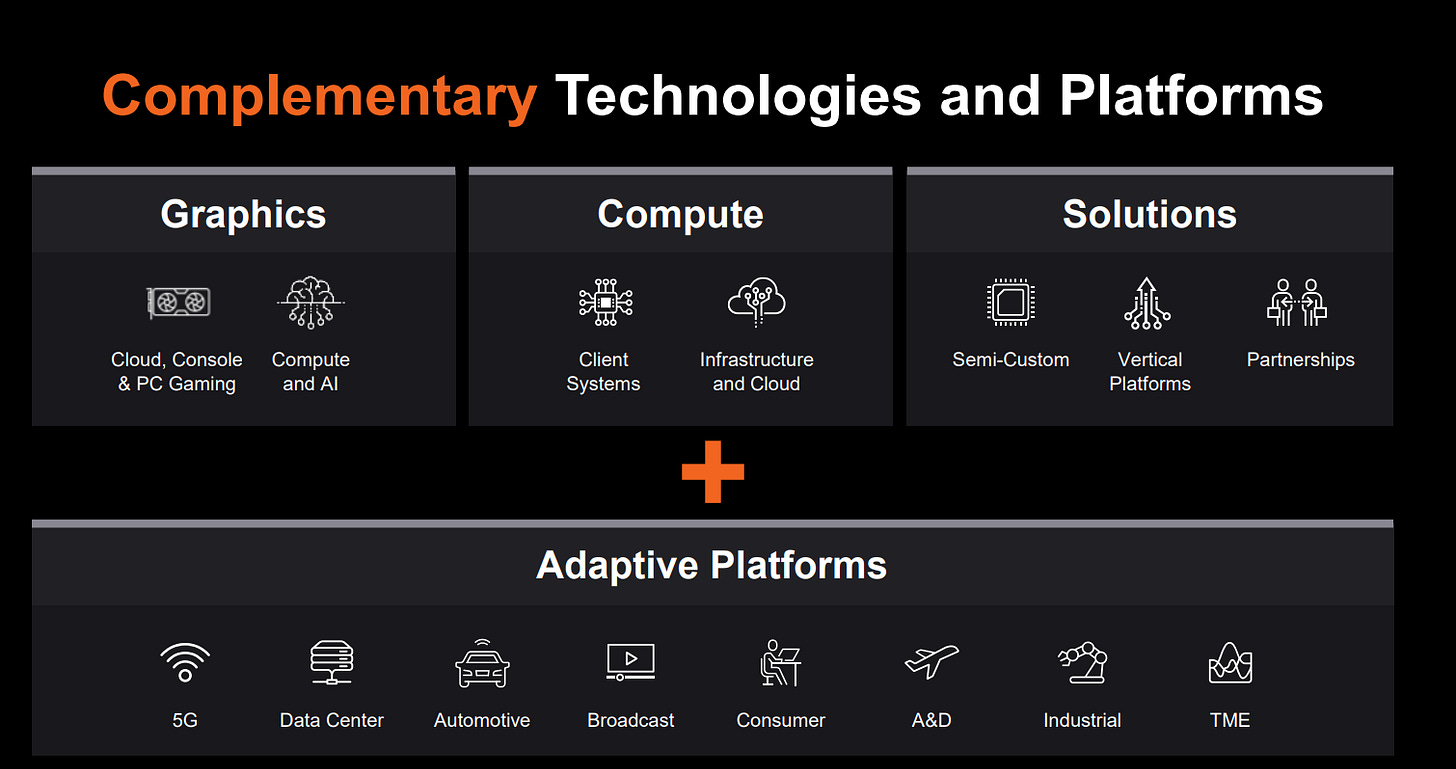 The questions on the call were good as well. It does seem like there is some level of overlap in terms of culture - or at least both CEO's mentioned this multiple times. This is notable because the question of "Why will this work when Intel's Altera's acquisition failed" in my opinion can partially be attributed to culture.
I do think the scale for both companies is important here as well. Both AMD and Xilinx have some form of software stacks that are used for programming their computing platforms. Xilinx seems much further ahead of AMD in terms of software support based on repositories on Github alone. But neither is as expansive and comparable to the CUDA ecosystem that Nvidia has. Together and with some effort, it's possible they can offer another software ecosystem across a broad platform of computing that will be a credible threat to Nvidia.
I'll link more interesting tidbits from the call when the transcript is available.
Financial Rationale and AMD's Growth
Here's a quick proforma I did of AMD+Xilinx. I was a bit generous in synergies, assuming they hit 100% of synergies by EOY FY22 (12 months after close).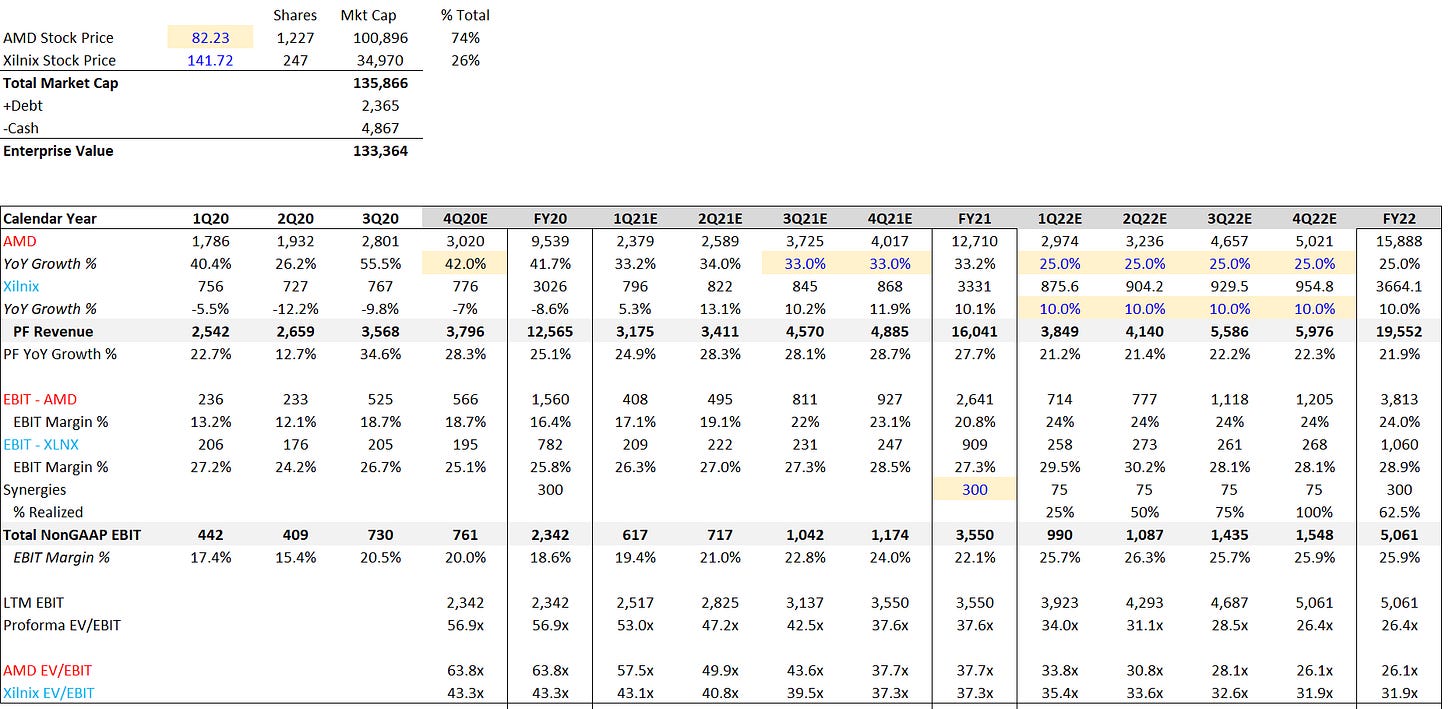 I think what's more interesting is how crazy AMD's results are. I had to meaningfully shift revenue upwards for AMD's FY 2021 revenue to grow YoY - as previous 3Q21/4Q21 estimates are pretty much this year's actual estimates. That is one hell of a print.
But I want you to take notice not only of the synergies but also of the standalone EV/EBIT's of AMD and Xilinx. These are my numbers, but clearly, AMD is growing a lot quicker than Xilinx and actually is cheaper than Xilnix by FY2022 with pretty modest growth assumptions on their end. I think this makes it pretty clear that AMD didn't need Xilinx, and this is a nice to have acquisition that is frankly dilutive to their overall growth potential. Obviously, it is instantly accretive to them currently, and will help AMD gear up to fight much bigger battles - but I don't think AMD needed Xilinx, rather Xilinx probably needs AMD.
It's a good marriage, and I think that with time if they can bring forward a compelling software platform for their datacenter platform, this could be a great acquisition. If they fail to integrate, lose meaningful designs, and cede share to other large FPGA makers in the world, well their name would be Intel. I think Intel is likely sweating right now. Altera is still a meaningful part of their business, and now the competitor that rocked their world in x86 is coming for FPGAs. This is all at a time when Intel is shedding assets fast and trying to focus on the core. Pressing the advantage makes sense for AMD here.
The Jury is Still Out, History is Hard to Master
Most investors cannot help but remember the last time AMD did a big acquisition. AMD was on top of the world, actually winning share from Intel, and just did a big acquisition. Oh, and the year was 2006. A good article from the time can be read here.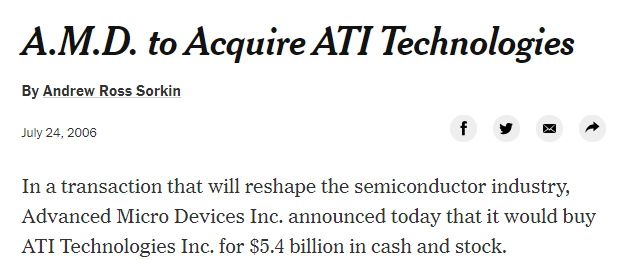 Source: https://www.nytimes.com/2006/07/24/technology/24cnd-semi.html
I think what's different now is importantly debt. ATI crushed them because of the debt load and a slowdown, but Xilinx is likely more stable than ATI was back then, and importantly this deal is all stock. So no additional leverage should help AMD manage this acquisition smoother than ATI. But time will tell if this was a wonderful acquisition or AMD bit off too much to swallow.
Until next time! Also for those who are new, I have a paid substack as well. I post more actionable ideas and less market commentary, with value add research that I think hits most of the trends I talk about. You should think about a sub!